Administrator | Sep 15, 2023 | Comments 0
Enjoy the Waring House with a new menu at Amelia's Garden Dining room, live entertainment, cookery classes and more!
Summer/Fall Hours:
Breakfast – Open daily for breakfast in Amelia's Garden (8:00am-10:30am)
Barley Room Pub – Open Sunday-Thursday 11:30am-8pm & Friday-Saturday 11:30am-9pm, live music Wednesday-Sunday starting at 6:30pm *No Reservations available, please come early to grab a spot
Amelia's Garden Dining Room – Open Tuesday-Thursday 11:30am-8pm and Friday-Saturday 11:30am-9pm *Book a Reservation, Call (613) 476-7492 ext. 1
Coming Events:
Country artist, advocate and lawyer Desiree Dorion is to perform a free show at The Waring House Inn, Picton Thursday, Sept. 21.
Desiree's music has appeared on Canada's Top 100 Country Charts six times, and following the release of her sixth studio album, "That's How I Know" this spring, Desiree's music and advocacy has recently been featured on eTalk, Your Morning, Global Morning Toronto, and CTV News Toronto. The album has been on Canada's National Campus and Community Radio Charts for six weeks and counting, and includes songs co-written with Crystal Shawanda and Dave Wasyliw (Doc Walker).
Desiree routinely speaks about Indigenous culture and issues within the community, partnering with the Canadian Country Music Association to host the Achimotak Series – conversations with Indigenous artists about their experience in music. She is also an ambassador with the Downie Wenjack Foundation.
Up-Coming Events:
🥃 PEC Single Malt Society Dinner: Blind Tasting – Wednesday, Sept 20th at 7pm: Enjoy a 3 course dinner & whiskey pairing with live music – Call to Book a Reservation Today!
🍷 PEC Wine Society Dinner: PORTUGAL – Wednesday, Sept 27th at 6:30pm: Enjoy a 4 course dinner & wine pairing guided by a local Sommelier – Call to Book a Reservation Today!
🦃Thanksgiving Brunch Buffet – Sunday, October 8th (11am-2:30pm): Enjoy a delicious brunch buffet – 'Salad bar, homemade desserts, turkey with all of the trimmings'. Call to Book Your Reservation Today!
🎤Open Mic/Karaoke Night – Every Monday at 6:30pm: Get ready to channel your inner SUPERSTAR! All are welcome to join our host, Shirley Diane Baker for a night of singalongs, dancing and FUN! Stop by for dinner and show off your stage presence.
🌸Garden Patio OPEN –
Tuesday-Sunday from 11:30am-Dusk:
Enjoy your dinner on our lovely garden patio – with bird feeders, beautiful flowers, wild life and umbrellas for sun shelter.   *Please note the patio is weather dependent – call us for more information and reservations.
LIVE at The Barley Room pub!
---
Guest performers include many exceptional local and nationally acclaimed  performers, covering a wide array genres from folk to blues, and everything in between.
Join us for these upcoming performances in The Barley Room Pub, where the wings are outrageously good, the beer is cold, and the tunes are smokin' hot!
Afternoon Tea in Amelia's Garden: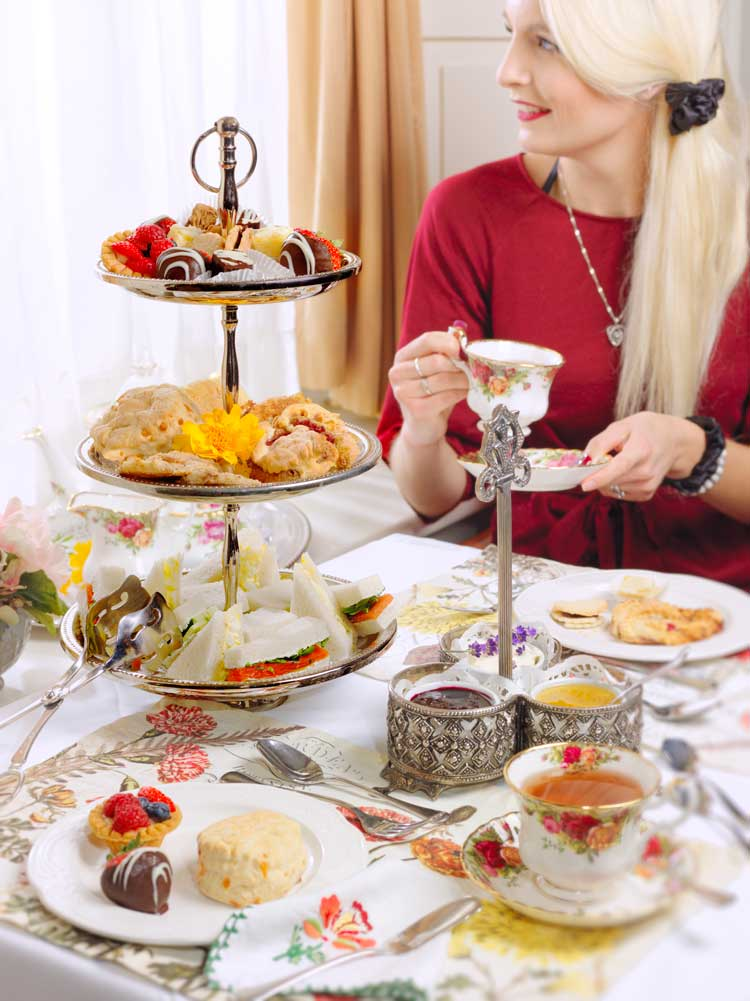 Join us for Afternoon Tea available at lunch daily in Amelia's Garden Dining Room!
The menu features an assortment of fresh tea sandwiches, homemade scones and cream, as well as assorted pastries, coffee or our exclusive line of teas by Harney & Sons.
The price is $30 per person, plus HST and gratuity.
Reservations are required 24 hours in advance. Please call 613 476-7492, extension 1 to reserve today.
Waring House cookery school classes explore culinary traditions of the world
After two years of closure due to the pandemic the Waring House has resumed its twice weekly hands-on cookery school classes. Begun in 2001, the classes have welcomed thousands of participants to the pleasures of expanding culinary skills.
Explore the culinary traditions of the world. Check exotic ports and places you have always wanted to visit and celebrate regional cuisine including Prince Edward County's own bounty of local foods. The destination changes every week. The class is a hands-on experience with participants numbers limited to enhance the experience. Click here to visit the cookery page to learn more! 
Amelia's Garden at The Waring House is seasonal dining at its best. With many ingredients supplied by local food producers, Amelia's Garden is a taste of the best Prince Edward County has to offer. The focus on local ingredients doesn't mean that the menu is ordinary. The team adds international flair, fusing different cuisines from around the world.
Filed Under: Shop Local
About the Author:
Comments (0)