Administrator | Aug 11, 2020 | Comments 0
Live Music in The Garden
Missing the pub at the Waring House? Try The Garden Cafe!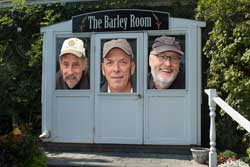 Your favourite musicians are back, performing evenings, Wednesday through Sunday, and Saturday afternoons.
Click here to visit the Waring House website for the weekly lineup of live music, then come on by for the best in local and regional music, great food, and cold beer, all in a beautiful garden setting.
Filed Under: COMING EVENTS
About the Author:
Comments (0)